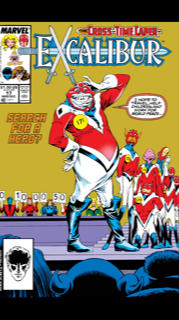 This week, the books are pedestrian, but the guest is OUT OF THIS WORLD!
Dan and Georgie are joined by Al Sedano of "Resurrections - An Adam Warlock and Thanos Podcast" 
https://asedano.podbean.com
 Al classes up the joint as the boys cover a Tournament of Titans, Mojo Morph Mayhem, and a Sewer Skirmish! Plus, SDCC comic news, movie news, and Disney+ talk. It's an extended episode of the Excalibros!
Join us in the... EVERYVERSE!
Also, we've started a Patreon. If you wanna hear us talk Marvel and X-Men movies/tv shows, come check it out! https://www.patreon.com/excalibros 
It's Exiles #18 (2001), Excalibur #17, and Generation X #6 (1994)