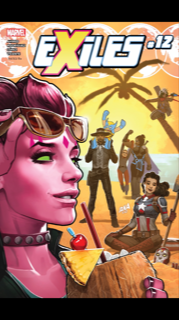 Georgie and Dan are back, to mourn the passing of one of the greats...
Exiles unexpectedly was resurrected in 2018 and expectedly (unfortunately) canceled in early 2019. Artistically astounding. Tonally superior. Wholeheartedly heartfelt. We're gonna miss you.
They also cover some WORDY Excalibur and a fairly good issue of Exiles from 2001. 
Plus, stay tuned to the end, when the boys announce what's to come and what you'll need to read in the future! 
Join us in the... EVERYVERSE!
It's Exiles #14 (2001), Excalibur #13, and Exiles #12 (2018)