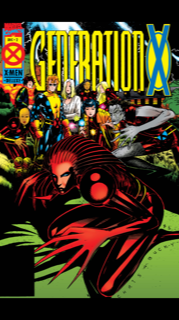 Georgie and Dan are back, and they've brought goodies!
Children of a certain age didn't grow up with the New Mutants or the New X-Men. They were part of the 3rd Genesis! That's right, it's the Generation X Extravaganza! From the seeds of the Phalanx Covenant, a new team is born. Come meet Jubilee, Sync, Chamber, M, Husk, Penance, and a reborn Emma and Banshee as they try to combat the 90s!
This week, the boys cover:
Uncanny X-Men 316-318 (briefly), X-Men 36-37 (VERY briefly), and Generation X 1-2.  
And for those missing our Everyversal teams of Excalibur and Exiles, they'll be back next episode!